Elizabeth Pimentel

Agent

in Palm Coast, FL
Associate Information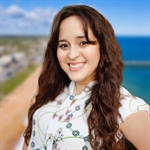 Professional Designations
REALTOR
Elizabeth was born in Rhode Island and raised in Florida. After obtaining her bachelor's degree in Criminal Justice from the University of Central Florida, she moved to the Carolinas.

Elizabeth always wanted to help people and make a difference, so she gained employment at a juvenile detention center near Wilmington, North Carolina. After more than 6 years, Elizabeth decided to move to the Upstate of South Carolina. While in South Carolina, Elizabeth obtained a job with the United States Postal Service, where she worked in mail processing, distribution, and in customer service and sales at a local post office.

It was then that she was able to accomplish her dream of becoming a homeowner. She found the process of looking for and finding 'the house' to be both stressful and exciting. A few years later, she sold her house and moved back to Florida with her family. They decided to find a house in Ormond Beach or the surrounding area, where they had lived many years ago.

After settling in Palm Coast, life in Florida continued as if they had never left. She thought back to her dream of working in real estate, and helping people buying or selling homes. Her dream became a reality when she became a licensed real estate sales associate with the State of Florida.
Elizabeth enjoys all things Disney. She prefers vanilla ice cream over chocolate, finds beauty in vintage cars and loves the color purple. In her spare time, she loves watching movies, spending time with her family and friends and spoiling her shih tzu, Gizmo.